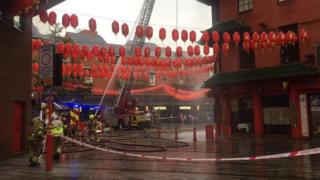 A large blaze has broken out at a restaurant in London's Chinatown, leaving smoke visible over much of central London.
Twelve fire engines were sent to Gerrard Place shortly before 08:45 BST.
London Fire Brigade (LFB) said part of the first and second floors of the end of terrace building were alight, as was a section of the roof.
Gerrard Place and the westbound carriageway of Shaftesbury Avenue have been shut.
Smoke from the blaze covered much of Soho after the fire broke out.
The cause of the fire is not known at this stage, LFB said.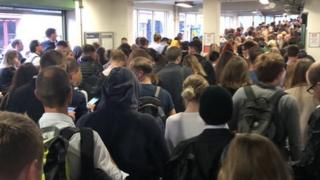 Passengers are facing travel disruption after an entire London Underground line was suspended due to a signal systems failure at the main control centre.
One commuter tweeted that he "hated the Northern Line", which was suspended just before 06:00 BST.
More than 800,000 people use the Tube line, which connects transport hubs Waterloo, Kings Cross and Euston, every day.
Transport for London said it was "working hard to restore the service".
Tube tickets are being accepted on Southeastern and Thameslink trains, as well as on trams and buses.
The delays come as schools open for the new term this week and one commuter tweeted that he "hated the Northern Line".
Both the Bakerloo line and Metropolitan line also have minor delays as a result of the signals failure.
Brian Woodhead, London Underground's director of customer service, said: "I am extremely sorry for the disruption suffered by customers on the Northern line today following a signalling system failure at our control centre.
"Our engineers are working hard to fix the problem and restore a full service as quickly as possible."